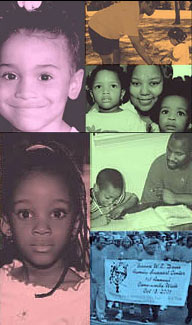 Foster Care
The cornerstone of the Family Enrichment Center is its Family Foster Home Licensing Program. The agency provides recruitment, training, licensing, supervision and support to existing and prospective families.  Foster care is a program that provides temporary homes for children who cannot safely remain in their own home due to overwhelming challenges including extreme poverty, illicit drug use, domestic violence, death and/or incarceration preventing them from providing the stability and nurturing a child needs.  Children may have been abused, abandoned or neglected.
Our emphasis is in preparing parents for and supporting them in their role as a member of the professional foster care team enabling them to provide the care needed for a child who is dealing with trauma and loss.  Additionally, we assist foster families in preparing for co-parenting and in understanding that the best outcome for a child, if possible, is safe reunification with the biological parent(s).  The goal of foster care is to help families in trouble. Foster care provides a safe and stable environment for the child while the troubled family receives help.
 You can be a foster parent if you:
Are married or single
Own or rent your home
Live in a house or apartment
Work, are retired or receive supplemental income
Have no criminal or child abuse history
Have sufficient income to meet your family's needs without relying on the foster care board rate
Have additional space in your home and in your vehicle for additional child(ren)
Have fewer than five minor children in your home
Have an abundance of love and patience
Have a desire to help children.
The Family Enrichment Center offers:
Short, flexible training schedules
Easily accessible training facility
Post placement support and in-service training
Respite with other FEC licensed families
Foster parent support groups
Adoption
When children cannot safely return to their families and termination of their parent's rights (TPR) has legally been deemed appropriate and in the best interests of the child(ren), the foster family who has been caring for them may be able to provide a permanent option through adoption.  The agency works in collaboration/partnership with the Eckerd Kids Community Alternatives Adoptions Unit to identify the most appropriate adoptive option.
Should a family's sole desire be to adopt a child whose parental rights have already been terminated, the agency will refer the family to the Eckerd Kids Adoptions Program for training and adoptive home study approval.  At this time, the majority of children currently available for adoption…
are between the ages of 5-17
may be part of a sibling or minority group, and
have all worked hard to resolve the issues related to their abuse, neglect or abandonment.
For more information, please contact C. Michelle Costley at [email protected] or call our licensing information line at (813) 237-2530 ext. 14.
Foster care and adoption support services are made possible through a partnership with Eckerd Kids.  For more information about Eckerd, log on to http://www.eckerd.org