Bishop W. E. Davis
1902 – 1997
Bishop W. E. Davis was born in 1902 in Madison, Florida. He lived to be 95 years old. In 1949, Bishop Davis moved to Tampa, Florida. In 1964, he became the Pastor of College Hill Church of God In Christ and continued to pastor there for 33 years. He was the founder of the Jurisdiction of Southwestern Florida Church of God in Christ, which presently consists of 50 churches.
Bishop Davis organized missions in several Florida cities: Pensacola, Milton, Munson, Midway, Sanford, St. Petersburg, Dade City and Tampa. He also led churches in Alabama – Montgomery and Tuscaloosa.
Coupled with Bishop Davis' outstanding leadership abilities was his noteworthy academic training. He completed correspondence courses at the Cincinnati Bible Publishing School, the Voice of Prophecy and Action Bible Study of the New York Theological Seminary.
Bishop Davis was a devout Christian, a leader in the city of Tampa, Florida and an advocate of Citizenship and faithful adherence to the teachings of the Bible.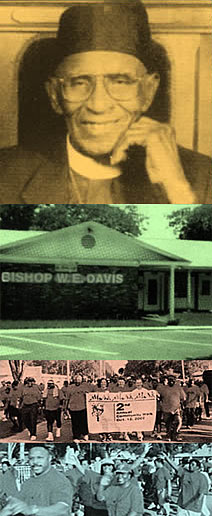 W.E. Davis Family Support Center
Bishop W. E. Davis left a legacy of faith and longstanding commitment to our community. The W. E. Davis Family Support Center is a fitting memorial to that legacy. The center is designed to complement FEC's existing programs including:
Foster Care / Adoption Child Placement Program
Grandparent / Relative Caregiver Assistance Program
Housing Assistance for low income families and families impacted by HIV / AIDS
The W. E. Davis Family Support Center exemplifies our belief in building on the strengths in our community! The easily accessible neighborhood-based, family support services provided include:
Saturday Respite for Grandparents
Parent Education and Training
Care Giver Support Groups
Teen Support Groups
Special Programs including tutoring and summer reading
Meeting accommodations for community groups
W.E. Davis Family Support Center
5407 N. 30th Street
Tampa, FL 33610-4414
Click here for MapQuest Directions.
For more information on the W.E. Davis Family Support Center please contact Judy Rowland-Smith via e-mail at [email protected] or phone (813) 237-2530, ext. 26.